We had a formative moment about sundown, standing in a grove of redwood trees on the California coast. And it had nothing to do with the beauty of the evening. It had everything to do with an iron skillet.
In his book If Only He Knew, Gary Smalley writes about his interest in couples with successful marriages. He interviewed several of them to ask their secret for long-lasting happiness in relationships. To his surprise, many of them said the same thing: "We go camping."
Camping? The idea puzzled us, too, but when we were newlyweds living on a second lieutenant's pay—about $16,000 our first year together—we didn't have extra money for vacations. If we wanted to see some place distant from family or friends with a guest room, camping was the most affordable way to do it. So "entertainment" aside, that's what we did.
We'd passed our fourth anniversary when we found ourselves newly civilian and newly relocated to sunny (and pricey) California. Our Big Civilian Paycheck purchased less, not more, than we'd enjoyed on Air Force bases, but the Golden State beckoned. Soon we found ourselves in a state park along the Big Sur highway, happily setting up camp in a cool green grove of redwoods with the setting sun slanting through the treetops, our one-year-old in his playpen beside the tent, our new Coleman stove open for business.
And the fateful moment came.
Hal turned to Melanie and said, "Where's the frying pan?"
And she looked back with a innocent puzzlement and said, "I thought you packed it."
Cue the dramatic music.
It suddenly dawned on us that we had come away to the wilderness with everything we needed except something to cook in. No pan, no griddle, no pot, nothing. We had hot dogs and chili for supper, eggs and toast for the morning, but no spatula to turn them with and nothing to turn them in. And it was hours to the nearest town.
Hal felt a rise of irritation. He thought she had packed it. Wasn't she the manager of the kitchen? He packed the tent and sleeping bags and other gear; she took care of the womanly part, right?
Melanie was annoyed, too. She'd loaded the dishpan with all the heavy cooking supplies and was sure she'd asked Hal to carry it out. And here we stood.
At that moment, a thought dawned on him.
Here we have a wonderful opportunity to hold an excellent, clear cut argument, he thought. I thought she had it, she really should have, and I'm perfectly just to point that out to her. On the other hand, he thought, that won't get me supper. So what do I want—a slam dunk win against my wife? Or something to eat? Because win, lose, or draw, all the argument in the world isn't going to get us fed.
On later reflection, Hal admitted that either one of them could have gotten that pan, and either of them could have checked to make sure they had it before they left. Certainly Melanie wasn't the only responsible adult in the family.
Melanie remembers a very similar moment standing at the end of the picnic table, wanting to lash out, wanting to blow up. She remembers it as clearly as if it were yesterday, though it's over twenty years ago. Sarcastic remarks started welling up in her mind and she began to justify them to herself.
He knows very well he should have carried that heavy thing out. I can't believe this! I feel like screaming at him. It's all his fault. What then, though? Her thoughts continued. We have a big fight, say awful things we'll just have to repent of, and poor little John still has nothing to eat and we've scared him to death, to boot.
And what actually happened is part of the history. We both decided it was better to fix supper than fix blame. The issue then became how to adapt to the situation. Golfers understand you have to play the ball where it lies. It's a useful concept for much of life, we've found. We had a situation—lack of a pan—that required a solution.
We decided to cook the hot dogs directly on the grill of the camp stove—a little extra cleaning would be needed, but it would do the trick. And we could probably heat the chili directly in the can, which we did (take the lid off first, we note). After supper, we carefully washed out the can and saved it up for breakfast, when it became an awkward but serviceable way to cook scrambled eggs. And stacking the bread around the edges of the stove against the lid got it warm and kind of toast-like.
Frankly, we don't remember how we managed the other meals. The important lesson, though, was that the argument we nearly had would not have fixed the situation one bit. Both the victor and the vanquished would end up staring at each other across a darkening picnic table as night fell on a world still without supper. This is what's known as a Pyrrhic victory. And it's a win that's not worth the cost.
Good sense makes one slow to anger,
and it is his glory to overlook an offense.
Proverbs 19:11
It's amazing how good eggs scrambled in a tin can taste.
Hal & Melanie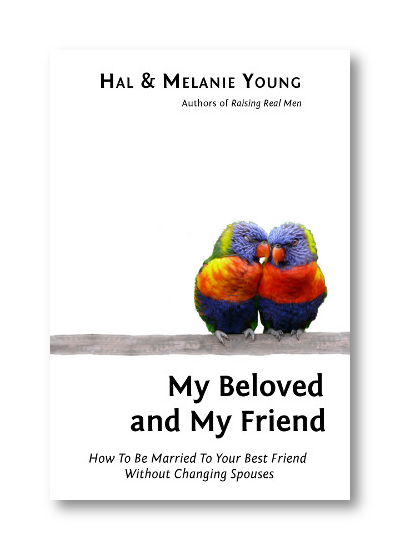 Excerpted from "How to Fight So You Both Win," a chapter in My Beloved and My Friend: How To Be Married To Your Best Friend Without Changing Spouses by Hal & Melanie Young, a new Valentine's Day release from Great Waters Press.
We're having a giveaway! Win a signed copy of Hal & Melanie's new book, My Beloved and My Friend. Simply leave a comment below, briefly telling a time when you chose to fix the problem, rather than fix the blame. We will pick one commenter at random at noon EST on Friday.
Hal & Melanie Young are the authors of the 2011 Christian Small Publishers Book of the Year,
Raising Real Men
, and the parents of six real boys and two real girls. They are popular conference speakers internationally and they have written for organizations like the John Locke Foundation, the Foundation for Economic Freedom, the Heartland Institute, and the North Carolina Family Policy Council. Their articles have appeared in HSLDA's
Home School Court Report, The Old Schoolhouse
Magazine,
TEACH
Magazine,
Homeschool Enrichment,
Homeschooling Today
and numerous other publications worldwide. Their newest book,
My Beloved and My Friend,
releases Valentine's Day, 2014. Find them on Facebook at
www.Facebook.com/RaisingRealMen
and
www.Facebook.com/HalandMelanie
. Check out their blog at
www.RaisingRealMen.com
. You can also follow them at
www.pinterest.com/raisingrealmen
,
www.twitter.com/raisingrealmen
,
www.instagram.com/raisingrealmen
, and
www.google.com/+Raisingrealmen
.